There is a problem with living on a fault-line, even if you have avoided disaster for many years, there is always the possibility that something is going to go happen. On the 25th of April 2015 Nepal was struck by a massive earthquake that devastated the country. Beyond the terrible loss of life, and infrastructure that hurt the poorest citizens most, it was devastating to the natural and cultural heritage of the nation.
Years before the earthquake struck, I had the ability to visit Nepal with my brother, and while we did a lot of hiking through the mountains, we also visited many of the cultural heritage sites in and around Kathmandu, the capital of Nepal. Since Nepal is a Hindu and Buddhist nation there are many temples and shrines throughout both the city of Kathmandu, as well as the mountains. In many cases these temples have been there for several centuries. In some cases they have been there for more than a thousand years. This is the reason that there are several UNESCO world heritage sites in the city of Kathmandu alone. In the centre of Kathmandu stands what was a beautiful square. Known as the Durbar Square of Hanuman Dhoka, this square was filled with wooden, mud and clay buildings with terracotta roofs. This complex included palaces, temples and markets and included the oldest Buddhist monument in the valley. These monuments and structures were covered in a variety of carvings, statues, paintings and gilded brass ornamentation. It was a wonder to behold.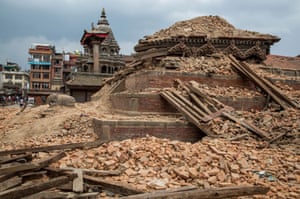 After the earthquake the complex was decimated. The images are shocking. I took the first image when I visited in January 2008, and the second one was taken by Omar Havana for Getty images, and used in an article of before and after pictures by the Guardian shortly after the earthquake. This loss is not only terrible for the country of Nepal, but for the world, and there was little anyone could have done to prevent it. No matter what we do, we are at the whims of shifting tectonic plates, and we watched as they took down buildings that had stood strong in some cases for 600-700 years.
Since this site is a UNESCO heritage site I know that it will continue to be protected, because of their mandate. They want to protect any site they have deemed of importance, and so they will rebuild, reopen and continue to protect what remains, but what happens to all the buildings that are not protected? I think this is a question to bear in mind,  but in the end, I know that I was lucky to be able to see these buildings in their glory, and will cherish that.

Resources:

Kathmandu, Nepal, before and after the earthquake – In pictures; 29 April, 2015; https://www.theguardian.com/world/gallery/2015/apr/29/nepal-earthquake-kathmandu-before-and-after-in-pictures 
Kathmandu Pictures; January 2008; Philip Klassen-Rempel
Kathmandu Valley; Last updated 2017; http://whc.unesco.org/en/list/121 
Nepal's museums reopening post earthquake; Friday, 5 August 2016; http://whc.unesco.org/en/news/1537