Since I was a child, I've spent each summer in the same tucked away spot in Italy – a hidden idyll of rural life in the commune of Monteleone di Fermo, in the Marche region. One year ago, I decided to forgo the family holiday. I was in America when news of the earthquake broke, and my first response was to call my family, who had thankfully left by that time, for news of our house. Trying to ascertain what the damage was threw into sharp relief just how remote our house is, like many in the area. When we stay there we rely on face to face communication with our neighbours, often during the daily coffee at the bar or weekly shop at the local market, meaning that we had nobody's number to call or address to email. Finally someone at the commune let us know that there was no visible damage to our house, but that the surrounding area had suffered a lot. The scope of the damage began to sink in when I learnt this, and I thought of the church in Monsampietro Morico, where I had always dreamed as a young girl about getting married, the curiously charming bicycle museum in Montelparo, and many other centres of local life and culture, many beautiful medieval hilltop towns with equally confusing and interchangeable names. My home was mercifully far from the epicentre, but others were not so lucky.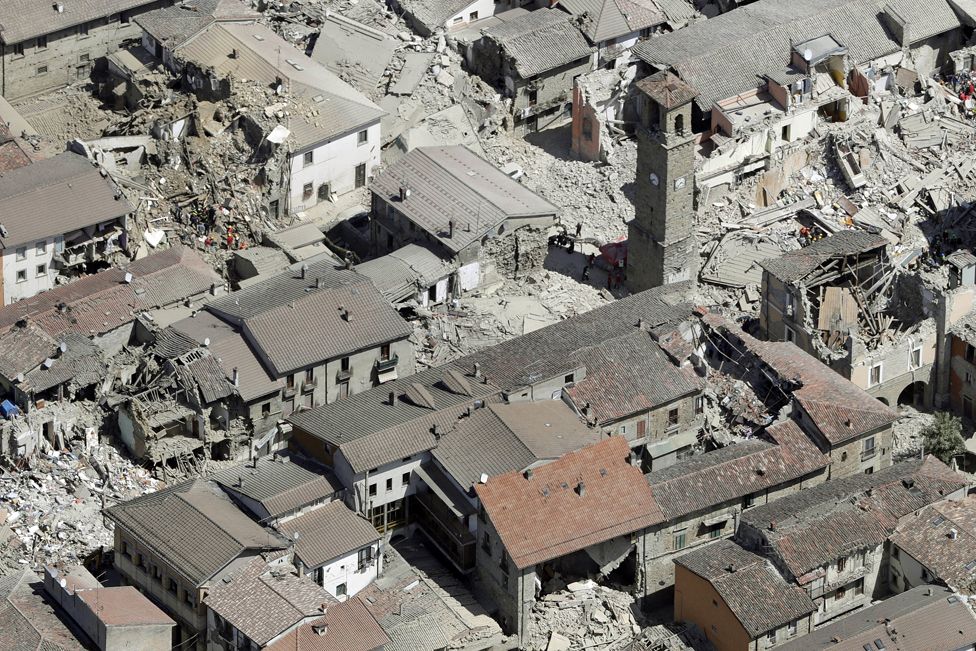 On the 24th of August, 2016, the central Apennine regions of Italy were struck by a devastating earthquake. It was to be the first of two deadly earthquakes that year to ravage the area straddling the regions of Marche, Lazio, Abruzzo and Umbria, in which both Norcia and Amatrice, pictured above, were severely damaged and surrounding towns and farms were destroyed completely. 298 people were killed, and over 30,000 displaced. The clock tower in Amatrice, which dates back the the thirteenth century, still stands amidst the surrounding rubble poignantly stopped at 3.39 am, three minutes past the time the earthquake hit. After the quake, Italian Culture Minister Dario Franceschini reported that at least 295 cultural heritage sites had been damaged or destroyed. Most of these were small village churches, icons of rural identity and centres of life in the villages and towns in that region. Art and architecture was damaged beyond repair, as in the Basilica di San Francesco, pictured below, which contained several fifteenth century frescoes. Yet more artwork from churches in surrounding villages had to be rescued and moved into warehouse storage in Ascoli Piceno, hidden away from the public eye.
So much of the area's art and architecture was destroyed, and locals still fear their 'historic towns will never look the same again'. One issue with restoring these towns and villages is that the area is famous for the type of stone used in its buildings, it is part of their regional identity. However, this stone is not very resistant to earthquakes. This brings up a dilemma: the state cannot in good conscience rebuild the houses from the same material, or what can be salvaged of it, but if they use more modern and sturdy materials, they risk losing a distinctive historical characteristic. In an interview with the Guardian, Cecilia Anes, a journalist from Umbria explains this, saying that 'the consequence of rebuilding everything in a modern way, using wood or concrete, means we won't have historical centres anymore, which are the soul of Umbria and Marche. It's a very confusing moment.'It is clearly a time where the cultural identity of the area has been forced into upheaval and unwelcome change. Anes adds that the houses could be rebuilt using the old stone, reinforced by concrete, but that this is very expensive. Added to these financial constraints, the government needed to physically house those displaced by the disaster as quickly as possible. Unfortunately, as Anes says, 'the decision seems to be between quickly creating new homes or saving heritage'.
This is not the first time, nor will it be the last, that Italy suffers destruction like this. In 1883, a massive earthquake in Ischia prompted the government of the newly unified Italy to issue the first national codes for antiseismic prevention. How then, can the country learn from these disasters? A lot of people blame the burdensome administrative procedures for the failure of the government to restore quake-stricken areas. Perhaps this is true, but there are many groups and individuals that have come up with innovative and, perhaps more successful ways of healing the affected communities. A great example of this is the work that the Italian Institute of Permaculture has put into motion. Their relief project focuses on the people's connection to their land and the cultural heritage tied to it and attempts to reconnect people who have been displaced to this land as a means of regional identity. They take issue with the State's response to the quake, saying it doesn't take into account that many don't want to leave their homes and farms, even if the structures are severely damaged.The standard State response is to move everyone to basecamps far from their homes, leaving all that is deemed as unnecessary such as vegetable gardens, orchards and livestock. Their project uses an interdisciplinary approach that recognises the complex needs of the local population, with expert architects, engineers, and farmers among the group.
All I can say is that a new approach is needed to find a way of restoring these areas and the inhabitants' sense of connection to their local history and culture that does not revolve around the historic buildings themselves. It seems a tragic fact, but a fact all the same, that many of these will never be rebuilt. Eight years after being devastated by an earthquake that killed more than 300 people, L'Aquila's  abandoned city centre is a stark reminder of the struggle facing Italian towns hit by quakes (see above).One year on, less than a tenth of the rubble has been removed from the streets of Amatrice, and many of the smaller villages with ageing populations will perhaps never be inhabited again.The EU Solidarity Fund estimated that the Italian government will need 1.2 bn Euros to conduct emergency restoration alone. When faced with these earthquakes and a lack of financial resources time and time again the Italian people will be forced to come up with new ways to create resilient systems against future disasters.
Sources:
https://www.theguardian.com/world/2016/oct/31/italy-earthquake-residents-historic-towns-rebuild-umbria-marche
https://www.permaculture.co.uk/how-permaculture-is-rebuilding-italy-after-the-earthquake
https://www.apollo-magazine.com/effort-save-italys-earthquake-damaged-art-architecture/